Homes, even beautifully designed ones, receive their fair share of abuse over the years. Unsightly holes from repair projects gone wrong, rough and tumble children or those pesky doorknobs can detract from the lovely home you've created. While seemingly daunting, most small- to medium-size holes take little time to repair, and the fix can be done by the most novice handyman (or woman) — getting your home back to being the envy of the block.
BEFORE:
This 2-inch divot from a wayward hammer stroke was in a visible location just beneath the mounting hardware of our
Moen Glenshire Pivoting Mirror
and in desperate need of being patched. To learn how you can repair holes in your drywall, just like we did, jump on over to my latest
Houzz Ideabook
.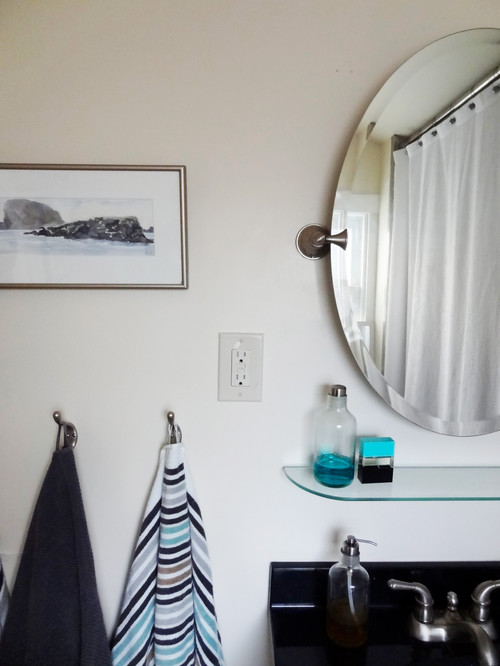 Hopefully, I can show a little more control with the hammer. If not at least I know how to fix my mistakes.
Disclaimer: As a Contributor I have been compensated for any Ideabooks featured on Houzz, although I am not compensated for sharing Houzz ideabooks on Revamp Homegoods. All opinions expressed here or that of the writer and are in no way influenced by Houzz.